August 31, 2020
NPR / St Louis On the Air
Thom Wall Interview
Listen to Thom's interview on NPR above!
Juggling: What It Is and How to Do It
a not-so-brief guide to the world's most underrated artform
About the Book
Juggling: What It Is and How to Do It is the result of six years of work by former Cirque du Soleil juggler Thom Wall. This book teaches learners of all ages how to juggle – one of the world's oldest artforms. With a kind demeanor, humor, and enthusiasm, Wall explains the process of juggling through four different modalities, bolstered by the latest physical education research.
In a moment where people are spending more time at home, pursuing new hobbies and skills, Juggling is a timely and accessible primer that a middle-schooler can hit the ground running with, or that families can enjoy together. But make no mistake, this book isn't child's play. With guest chapters by some of today's modern juggling masters, Juggling provides a wealth of content to span years of study for even the most serious adult learner.
---
For More Information…
…visit the book's complete informational page!
---
Learn the story behind the book:
"With New Book, Thom Wall Wants to Inspire Young Jugglers to Have a Ball" – St Louis Post Dispatch 8/20/2020
Thom Wall's New Book Juggling-What It Is and How to Do It – Five Reasons Jugglers Should Read It
Kim Campbell, Editor in Chief, CircusTalk
In Thom Wall's new book Juggling–What It Is And How To Do It –a not so brief introduction to the world's most underrated pastime, it is possible to get serious about your juggling practice at last, or if you're a newbie, to delve in without hesitation or the need to hire an expensive private coach. And it's not a bad idea to start a new hobby you can work on solo during pandemic times either.
As for underrated pastimes, I have dabbled with many of them over the years; knitting, archery, Dungeons & Dragons, bullet journaling, stamp collecting– I even tried candle-making during an especially productive phase. But juggling–to me, it is the gold standard of pastimes. It is the hobby that keeps on giving, and yet the public knows so little about its merits and complexities. Without the proper tour of the discipline that Wall provides, it would be easy to miss the point that juggling has a lot to offer. It's portable, affordable, you can learn at your own pace, it involves math and science, it's accessible to everyone regardless of age, athleticism or body size, it strengthens neurons and reflexes, it can lead to a flow state, it can be done alone or with friends, and it will be a great form of entertainment in the dark times when the power goes out. The unplugged hordes already know this.
When I asked Wall why he felt the impetus to write this book, besides his prolific urge to write and research in general, he said, "This book really is 'the book that I wish I had when I first learned to juggle.' I learned the basics from Dave Finnigan's The Complete Juggler, and eventually found a juggling club near my family's home in St. Louis and never left! I was brought up in the juggling community–that's where I learned the bulk of my juggling technique. My first times on stage were at juggling festivals." Wall's career went on from there, leading him to work with Cirque du Soleil on Totem from 2014 to 2019, to tour 12 countries, and to find his specialty, recreating and enhancing juggling tricks from the past. That lead him to write Juggling: From Antiquity to the Middle Ages, which won the Best Nonfiction title at the Indie Book Awards in 2019.
One of the reasons juggling may be under-appreciated is that it is hard to get good at it. It requires a level of grit, coordination and doggedness demanded of Olympic athletes, but with way less payoff in fame and not so many photos of good abs to show on Instagram for it. Fortunately, Wall has made a tome for the prospective juggler that makes juggling and progression in juggling accessible, doable and way less haphazard.
Speaking as a novice juggler, I have endeavored to answer this question in relation to Juggling–What It Is And How To Do It–What does any new juggler want/need in a juggling book?
1. Reassurance
There is no shortage of reassurance from Wall throughout, starting from picking up your first ball all the way to multiplexes and beyond. He models the healthy sort of pep talk a juggler needs to hear from their coach in the beginning which eventually evolves into the kind of self-talk you need to get past those inevitable plateaus. You may have seen the man himself balance a chalice holding a balloon (which in turn held another balloon inside of it) on the tip of a dagger that he gripped in his own teeth. But that doesn't mean he is not a mensch willing to walk you through the pitfalls of drills. Wall explains why, "There are lots of jugglers who juggle for fun, but want to have some really nuanced help with technique or help to get a routine together. This book is for them! That's me back then!" His tone is consistently one of a patient coach reassuring you that you can indeed get to the point of doing a 5551 siteswap with four balls if you just patiently drill all of the steps he set forth for you earlier. He even digs deeper and explains why–unlike your 9th-grade algebra teacher. Wall says, "A few of the advance readers of my book said that it's "more of a 'learning' book than a 'doing' book" and I think I agree with that. In my view, the best way to teach–to really drive the point home to learners–is to explain everything in detail. Talk about the reasons *why* something is important or needs focusing on.
2. The Basics
Wall doesn't just provide the recipe (mechanics, drills, support, multi-modal explanations), he also provides the ingredients list, the notes from experience, and just the right sprinkling of personal anecdotes to get a new juggler through the challenging first phases of learning to juggle, that time period where you are just tossing one or two balls from hand to hand (to focus on your scoop) and trying to believe that it WILL help in the end. His unspoken promise is that if you have the perseverance to break through that initial no trick phase, a whole juggling subculture of challenge and playfulness awaits you.
One of the most valuable but brief chapters in the book is General Training Tips where a newbie can internalize some useful advice, such as "Finish on a high note, with a trick or a sequence you can do reliably," or when he delineates the meaning between the three distinct forms of practicing juggling: practice (a time to explore and discover new tricks), training (goal-oriented) and rehearsal (working on sequences of tricks and phrases with an audience in mind.)
The book has a natural progression from three ball basics, to three-ball tricks and siteswaps, to multiplexes, moving on to four balls, balancing, and eventually five balls. Besides providing a variety of different instructions for each new skill set (visual diagrams, images and word descriptions) to accommodate the different learning styles of each juggler, Wall also provides explanations of different training methods so that jugglers can find the method or methods that best suit their personality. You can give endurance training, the twenties, or pyramid training a good go to see which helps you progress the most. These are all simple rule-based methods of training to get your drills in and skills up without burning out your interest.
3. A Slice of the Culture/Insider Tips
Sprinkled throughout the lessons on the fundamentals of juggling there are tidbits of history and contemporary juggling culture ranging from Paul Cinquevalli to Gandini. Wall pays homage to his predecessors and passes on the history of juggling as easily as he informs the reader about the lingo. Unlike the classic Juggling For Klutzes style of how-to books on juggling that instruct on a handful of tricks, Wall is laying a juggling foundation based on training, knowledge and access to the culture that will lead to a lifelong engagement with the art form, and that is something you can't pick up from Youtube tutorials either. And he brings in some juggling friends to help. Benjamin Domask-Ruh, Jay Gilligan and Frtiz Gribe contribute. Gilligan expounds on trick development, Domask-Ruh is the jack of all trades, helping with book logistics, structure and layout (and modeling some moves), and Grobe tackles how to juggle for an audience.
4. Progressions & Higher Concepts
What keeps people hooked on juggling is how there is no end to what you can master and that means eternal challenges. Developing your understanding of juggling means broadening an ever-increasing ring of skills and comprehension of complex concepts, and melding those with creativity. The cool thing is that Wall is excited to walk you through that progression rubric and help you make sense of it so it's not just trial and error. By focusing on form, mechanics, Siteswaps, trick creation (with some guidance and insight from the afore-mentioned master creator Jay Gilligan), act creation and performance, ethics, resources, and strategies–you get a fuller picture of how to progress as a hobbyist or a professional.
5. Handy Appendixes
Appendixes A through G are essentially lists, deep dives and instructions you would gather as a juggler from your friends over a lifetime of immersion in juggling culture. What books should you read about juggling? What type of juggling equipment should you get? Can you make your own equipment? How many siteswaps are there? These are invaluable resources that can be explored deeply and will have you pulling the book off of the shelf over and over again for years to come.
Juggling–What It Is And How To Do It is a primer of sorts, for every juggler, from the newbie, to the hobbyist or aspiring professional who wants to begin with juggling balls. It would be an excellent circus school/studio resource for students as well as teachers and belongs in every circus library. But not every juggling journey begins and ends with balls. There are hoops, clubs, diabolos, boxes, cups and knives to name a few other options. Wall does not address them, preferring instead to set the principles of juggling balls (and balance) down, stating "The book is definitely more limited in scope when compared to, say, Dave Finnigan's Complete Juggler. I talk about ball juggling, balance, and theory….With a solid understanding of fundamental techniques, the other props–the clubs and the rings and so on–are much simpler. The ball juggling is to understand properties of the juggling, and the balance is to understand properties of the juggler!" In any case, there is enough material in Juggling–What It Is And How To Do It to keep you busy making juggling gains for a whole pandemic or two. However, it takes!
A Sidebar: How Juggling Achieves Holistic Circus Education
By Madeline Hoak
I am not a juggler, I am an aerialist, but after reading Juggling – What it is and How to Do It by Thom Wall, I feel like I am able to think like a juggler. As a fellow circus educator, I know that thinking through and with a technique is a huge milestone for a student. Wall achieves this easily through excellent instruction and by giving his student agency to learn at their own pace. He also assumes the student is smart and competent, and encourages them to do what they find fun.
I read Juggling lounging on my couch, but I could immediately tell that when I reread it with juggling balls in hand, I am going to be successful. Wall nails what I consider the magic recipe of teaching circus: technical biomechanics contextualized by why the technique works and all presented in multiple learning styles.
To achieve any physical endeavor, it's essential to understand the biomechanics of the skill: what limbs go where, what muscles should engage, how much force to give, etc. Wall's writing clearly and concisely explains both the broad-strokes and nuances of the biomechanics of juggling technique. Biomechanics make a successful technician, but are only one facet of a good education.
If a student comes to a conclusion on their own, they embody it and remember it much better. (This is the educe in education.) In this way, a teacher is a guide rather than an instructor. This is tricky, sometimes impossible, when teaching circus skills — often we need to instruct right off the bat to keep our students safe — or when teaching through a book. Yet, embodiment is also achievable if students understand why a technique works. Sometimes in the span of a single sentence, Wall gives his reader clear biomechanical instructions and explains why that technique is important for successful juggling. The instruction is encased in context, a necessary pairing for embodied understanding.
Juggling also models what I call holistic learning and consider a keystone of healthy education. Human brains learn different ways, and Wall's multimodal explanations — verbal, visual and mathematical — get the student's whole brain working. When we engage in multiple ways with a lesson, we more fully synthesize the presented concepts. Nothing can replace in-person tutelage, but Juggling exemplifies how holistic learning can be successfully translated into a book.
After reading Juggling, I literally felt smarter. I gained a deeper appreciation for the art form. Next time I see a juggling act, I will be able to recognize and name more of the skills I'm watching. I am now a more educated audience member. Anyone who loves to juggle should read this book, and anyone who just loves juggling should read it too.
It's not often that a piece of literature can speak to all levels of talent. Whether you're a new juggler wanting to learn a 3 ball cascade, an experienced juggler needing to improve training organization & methodology, or a coach looking for more drills to help support their students' progress. This book covers them all.
As an accomplished juggler, Thom knows how to execute his personal juggling strategy, but he is also one of the few who is able effectively transfer that knowledge in a clear and detailed format.
-Beau Sydes, Head Coach, Cirque du Soleil: Drawn to Life
"Some of us will never be jugglers, and that's OK. I'm one of those people. But what I didn't realize, before I picked up this book, is that having fun with juggling is within anyone and everyone's reach. It doesn't have to be something you take up "seriously." Even with just a tiny bit of experimentation and play with it, it can benefit your body and your mind. Juggling isn't just for boys or men, it isn't just for obsessive hobbyists, and it isn't just for confident people who are comfortable performing in front of other people.
These and other misconceptions are all dispelled in Juggling: What It Is and How to Do It. Clear, humorous, and calmly full of infectious passion for the art of playing "catch" with yourself, this book is truly delightful. If learning to juggle seems like a daunting and unappealing prospect, give this book a chance. Then buy it for all your friends!"
-Sophie A. Lewis
Juggling is not necessarily easy to do, but it's easier to do than to explain.  Noted juggler and vaudevillian Thom Wall aims to fix that.  His new book covers the hard part, explaining how to juggle in a way that just about anyone can understand. The book is called Juggling:  What it is and How to do it. and it came out on August 31.
In the book, Thom takes a very scientific and practical approach to the work of juggling.  He provides diagrams, sketches, notations, time-lapsed photographs, and a number of other techniques to help people understand and improve the sweet science of juggling.
Thom also explains in great detail a method of practicing, how to create a new trick, the ethics of stealing other people's material (the short answer:  Don't!– steal the idea and then make it so much your own that people watching both tricks wouldn't be able to see the similarities.)  The book has over 220 pages!
Thom Wall has spent his career as a performer, including working cruise ships around the world, and cabarets, bar mitzvahs, circuses, fringe festivals, and just about anywhere else a crowd can gather and get amazed at a guy doing cool tricks.  He has performed in 17 countries on 4 continents, including a 5 year as a featured act on Cirque du Soleil's show Totem. He's a great vaudevillian, and a funny guy, but more importantly for this book, he's a clear thinker about juggling, and the book shows that thought.
Thom Wall Has Written the First Juggling TextBook
Throughout the book, there are diagrams and timelines that explain specific tricks, as well as footnotes (this may be the first book that is not a thesis about juggling that has footnotes!)  Wall also quote scientific studies about juggling, physical education, and coordination, and has at least 7 Appendixes (I got a proof of the book, so it may change between now and then) that includes information on Siteswap notation (the language of juggling), how to build your own juggling balls, how to warmup as a juggler, and even a bibliography of other books about juggling.
He also incorporates two chapters by other juggling geniuses, Jay Gilligan and Fritz Grobe, who talk about creating tricks and about performing in front of audiences.  Throughout the book, there's a sense of sincerity, humor, and clear mastery of craft that makes it easy to read and encouraging to continue.
Basically it all boils down to this:  If you are a novice juggler, Thom Wall's book is great to use to pick up basic 3 ball juggling (and to ground yourself in a method for how to move beyond.)  If you are an experienced juggler, this is an essential reference book that you must have on your shelf.  Either way, it's well worth getting!
You can buy the book on Amazon here https://amzn.to/332fkmt 
You can find out more about Thom Wall at http://www.thomwall.com
And you can find out even more about the book at http://www.jugglingbook.com
"As far as instruction books go, this one is definitely in my top ten.  I've always wanted to know how to juggle, and this book is incredibly user-friendly.
For each move, there are a variety of picture styles in order to appeal to and help different learning approaches, and the book moves from beginner skills (complete with moments of "drill-able" steps for working on fundamentals) to more complex juggling arrangements. Included, too, are common mistakes new jugglers make and how to fix them.
Sprinkled throughout the book are helpful and encouraging footnotes and quotes from actual juggling studies. Despite the difference in content (skills vs the science behind them), both aspects of the piece are delivered in the same friendly and cheerful voice that is developed in each section.
While I may never be a juggling master, I did enjoy this book and will likely keep it handy for anytime the urge to learn strikes."
-Sarah Thompson, bestselling DIY author
"This book made me angry.
I have been a professional juggler for over 35 years, and if I had read this book back when I started, I would have avoided many bad habits, learned proper technique, and had a more thorough understanding of site swaps, balance tricks, practice techniques, mechanics, performance, and much more. This book would have made me a better version of me. But the good news (for me) is that even for a seasoned pro, there are techniques in this book that I was able to adopt the day I read it.
Thom Wall inspired me, challenged me, and taught me to be a better juggler, with the most clear and complete book about learning to juggle that I have ever read. If you want to juggle, or if you do juggle, at any level, you want this book. Read it, and become a better version of you."
-Jon Wee, The Passing Zone; Member, CPAE Speaker Hall of Fame
Most juggling books take the same approach to learning basic juggling – that is, whatever method the writer used to learn. Juggling – What It Is And How To Do It, however, combines a variety of approaches, including siteswap notation, to offer the first fully comprehensive manual on juggling. No competing trade books employ siteswap notation, despite it being the primary tool in juggling instruction for the past two decades. There are also no serious books that provide in-depth discussions about posture and mechanics.
Thom Wall presents his primer as a "learning" book more than a "doing" book," and this will delight both newcomers to the hobby as well as serious jugglers who want to absorb and perfect the art with a step-by-step survey of the basics.
An overview of juggling history moves to working with three balls, understanding common mistakes and how to overcome them, and absorbing the vocabulary jugglers use to perfect their art, from 'reading' to balance.
Specific information about the center of gravity in juggling balls, methods for predicting the way the balls will move, and drills for moving from beginning to more advanced juggling challenges cover both theory and operation in a book designed for jugglers who have the equipment (or are willing to craft their own props using the guide in the back of the book) and desire, but lack technique and basic learning approaches.
Drills not only emphasize this technique, but comment on the emotional overlay involved in juggling efforts and practice: "Work on your five flashes and longer runs while standing on a chair. (Work on the four ball drills this way, too!) Isolating your body in space will make you realize how much you're relying on corrections, rather than perfect throws. It's sobering, but don't beat yourself up about it if you find it frustrating!"
Also included are explorations of more difficult moves and why some may prove impossible, as concepts such as "fusion" are explored in a guest chapter by the legendary Jay Gilligan: "No one ever juggles 7 clubs with one eye closed, or does 5 club backcrosses standing on one leg. These would both be very hard tricks to do, but only because juggling culture does not count the variation of closing one eye, or standing on one leg as valid criteria for a trick. If closing one eye was accepted as something a juggler can explore to add complexity to a trick, then the technique of closing one eye would be spread and practiced, and eventually incorporated into the general technique pool that new jugglers learn. Closing one eye would then end up not being a novel or foreign idea and lots of jugglers could (more) easily do it. Fusion is motivated by these cultural observations and is the simple idea of choosing to join 2 body parts together and exploring that physical reality while juggling."
Thom Wall's practical guide should be the first step in embarking on a practiced juggling career. It uses illustrations, physics, psychology, and other approaches to explain the approaches, purposes, and achievements of juggling. All this makes for a solid exploration that goes beyond simple tricks to thoroughly explain the science and actions behind juggling success and lays a solid foundation for anyone interested in getting on stage."
-D. Donovan, Senior Reviewer, Midwest Book Review
"Juggling suffers from many clichés. These clichés are so strong that they contaminate even the educational books about juggling. As a juggler, I suffer to see how the discipline I spent most of my life around is so disregarded and misunderstood.
There are, however, a few books that really bring serious content. Thom Wall's book is one of them. But is not only a new serious book: it brings a holistic approach, by using solid scientific and historical foundations, by proposing global and modern views, so the reader can not only learn a few good tricks but understand why and how they are related so they can keep improving after reading.
Juggling is so vast that no juggler can know everything about every specialty. That's why inviting top-end practitioners, as Wall did with the chapters by Jay Gilligan and Fritz Grobe, to complete the author's view is also very precious. Everything packed with a very clear and fun presentation makes this book a must-read for any juggler in the making—that is— everybody."
-Denis Paumier: director, teacher, company Les Objets Volants
THE BOOK ALL JUGGLERS NEED: ASPIRING BEGINNERS AND EXPERTS ALIKE
August 25, 2020 – eJuggle – the International Jugglers' Association
Will Andreas
Juggling: What It Is and How to Do It is the latest book from Modern Vaudeville Press (release date: August 31, 2020), a company dedicated to "scholarly books about the circus and variety arts." Written by Thom Wall with chapters by Jay Gilligan, Fritz Grobe, and Benjamin Domask-Ruh, all of whom are renowned international performers. Juggling: What It Is and How To Do It aims to provide instruction for complete beginners as well as helpful tips, training regimens, and theoretical asides for even the most experienced jugglers.
Despite the book's mission, I wouldn't have considered myself eligible to benefit from this text. I'm not a juggler! Turns out, I was wrong.
I have never seriously considered learning how to properly juggle for the same reasons I've been repeatedly told I'm a terrible dancer: I'm stiff, I have no rhythm, and I can't remember complex routines. With a sigh of defeat, my drama teacher put me in the back row well out of the lights on opening night of A Chorus Line, and I was told to "come back later" after a brief introduction to a swing club in college. Unlike my dance instructors who would quickly twirl while simultaneously spewing verbal instructions they were loath to repeat, Wall breaks every step of basic juggling sequences down with a variety of analogies and accompanying diagrams and photos. The tone of his text feels genuinely encouraging and his humor ameliorates the frustrations new learners always experience. I can't stress enough how much his book feels like you are having a conversation with him; despite it being "merely" written words, the book is more personable and detailed than any how-to video I've seen on YouTube.
I am not a member of the circus community, but I appreciate it vicariously through the conversations of my circus performer friends. A term that regularly pops in conversations is "siteswap," and it seems to always change the tone of the exchange. It's charged with almost mythic significance, and elicits either nods of comprehension or, more often, embarrassed confessions from the veteran performer that they "don't actually… understand siteswap." Siteswap is (from the Appendix of Juggling: What It Is and How to Do It) "a mathematical system for recording juggling patterns." If you struggle with math and dancing like I do, don't despair! Thom explains the system more clearly than even the best Algebra instructor could. Though I'm still working my way through the first few patterns in the opening chapters, I am very pleased that I can now nod knowingly when the concept comes up in future conversations. (Suggesting, of course, Juggling: What It Is and How to Do It to the sad uninitiated who are not nodding knowlingly, as I am now!) That's the beauty of this book. It welcomes everyone to the club with open arms (unlike swing dance. Yes, I'm still bitter.)
In addition to teaching how to juggle three, four, and five balls, as well as offering training routines, trouble-shooting tips, and balancing techniques, the text includes a DIY section to teach readers how to make your own juggling balls and recommends books for additional instruction. This really is the only book you need if you want to learn how to juggle or to improve your practice.
You can pre-order the book now at: www.jugglingbook.com
It also available at Amazon.
Paperback: 224 pages
Publisher: Modern Vaudeville Press (July 8, 2020)
Language: English
ISBN-10: 1733971254
ISBN-13: 978-1733971256
"Juggling is a comprehensive tutorial guide for learning and improving juggling skill. Due out August 31st, 2020 from Modern Vaudeville Press, and written by Thom Wall, it's 224 pages and will be available in paperback format.
This is an exhaustively documented and logically laid out series of tutorials written by a juggling master who *really* knows what he's talking about. The book starts with an explanation of the diagrams used throughout and moves on step by step from basic 3 ball juggling (including positioning, tossing, catch/scooping, and repetitions) through more complex tricks and variations.
There are good takeaways here from beginning jugglers through professional level. In fact the foreword is written by Matt Hall who is himself a professional educator who knows a thing or two about the art.
I've always been super clumsy and also have always positively yearned to learn how to juggle. I've never been successful but with the help of this book, I have -almost- managed to juggle three balls in the simplest pattern. (Trust me, this is huge for me). One of the things the author does which is brilliant is to break each and every move into smaller moves which are individually attainable. By learning each individual move and performing them sequentially, the entire rhythm and pattern can be learned.
Five stars. Very well presented. This would make a superlative gift for a juggling learner, or anyone who has ever wanted to learn. For the current climate with lock-downs and everyone learning how to make sourdough bread and all the other quarantine crafts…this would make an awesome alternative."
-Annie Buchanan, Haukeland Universitetssjukehus
Juggling: What It Is and How to Do It is a complete, comprehensive, well researched, good humored, truthful and just plain fun to read.
When I was learning to juggle in the 1970s, some of the references used in this manuscript were available, but certainly nothing like your book. For me, the key that makes it totally up to date and thoroughly modern is the detailed inclusion of siteswap notation. It's a book for NOW – for TODAY! …And as if that wasn't enough – it's FUNNY! I can't think of anything this book lacks. It's structured it in such a way and heads off so many mistakes that could cost serious learners precious time. It's clear and rightfully keeps stressing that juggling is about developing the technique to make accurate throws and not about making spectacular catches. So many points stood out for me – the discussions of ethics and originality in particular. I love that the book touches on the work of Avner Eisenberg – being interested in what you are doing in performance rather than trying to be interesting. (From an acting perspective, you can not play a state of being like "being interesting". You have to make your actions active and not passive.) For me, any act is about having that "inner smile" which immediately ensnares the audience into sharing in your act. I like the props section as well – how to choose them or make them! So many books don't reach this level of granularity and coherence.
This is the new "classic" juggling manual, and will doubtlessly be translated into many languages!
The difference between a student learning "old school style" and using "siteswap notation" as an aid is to me pretty dramatic. If you only teach 3, 4, 5 balls in succession, students become fixed in certain movement patterns. These patterns become habitual and become difficult to break out of. If, say, you want to try "Mills' Mess" you will need to go through the process of unlearning habitual patterns. But if you use site swaps as aids, you train your body to become accustomed to changing and being aware of having to throw balls at different heights and to different places and knowing each throw you throw and exactly where it goes. Site swaps are like learning scales on the piano. They might seem tedious but they are the only way to significantly continue to improve and keep the juggling alive and changing.
I think Thom Wall's method is the best I've seen. I will certainly use it at Clown Conservatory.
-Judy Finelli, former president of the International Jugglers' Association, co-founder of the San Francisco Circus Conservatory
"Because of his intelligence, wit and dashing good looks Thom Wall has been referred to as the Lord Byron of juggling.
His new book "Juggling what it is and How to do it" is a thoughtfully laid out manuscript with easy to follow instructions that are augmented with helpful diagrams and illustrations. It is the perfect vehicle to lead the neophyte juggler on his juggling journey from the very first toss to the mastery of five ball juggling.
If it would take a million monkeys typing a million years to reproduce the entire works of Shakespeare I'm sure it would take them at least half as long to produce just this one book by Thom. That's how chock filled it is with useful information not only on the technical aspects of juggling but on how to make juggling entertaining to the general public as well.
With special sections by legendary jugglers Fritz Grobe and Jay Gilligan Thom has produced a work that is a must have not only for the beginning juggler but also for the more experienced practitioner of the juggling arts as well. The journey to juggling excellence is a long and twisty one but with Thom Wall as your guide the path has never been more crystal clear."
-Dan Holzman, Professional juggler and Host of the Drop Everything juggling podcast.
"Thom Wall is an American juggler who specialises in learning juggling tricks from the past. He has performed in 12 countries on four continents, including a run of his solo history show 'On the Topic of Juggling' at the Smithsonian Institution in Washington, D.C. Thom also performed as a solo act with Cirque du Soleil's touring big-top show Totem from 2014 through to 2019.
Juggling: What It Is and How to Do It is the result of six years of work by Thom Wall. This book teaches learners of all ages how to juggle – one of the world's oldest artforms. Starting at a point of three objects, it uses diagrams to support the readers understanding. Instructions are illustrated with three clever types of diagrams – step-by-step cartoons, ladder diagrams and long-exposure diagrams taken with LED balls. The methodology is backed up by scientific and mathematical understanding. Clear hints and tips are given throughout the book including the best ways to schedule practice and ways to overcome common mistakes. Juggling throws are given names and numerical codes and the book builds up in stages to 5 ball juggling.
Jay Gilligan has a chapter called, '10 ways to make a new trick' and Fritz Grobe has a chapter called, 'juggling in front of an audience' further enhancing the development of any potential juggler. Benjamin Domask-Ruh is credited as the pedagogic editor of the book.
There is an appendix which gives details of juggling language; a glossary; The Gandini site swap list; how to warm up for juggling; types of juggling balls and how to make juggling balls. There are also ideas for further reading.
In my 43 years of circus going, I have seen many great international jugglers, this book has made me think about how complex juggling is as an artform. However, Thom breaks juggling down into clear developmental stages allowing a learner to teach themselves how to progress as a juggler. This book will be of great use to any juggling enthusiast or anyone hoping to teach themselves how to juggle in the future.
The paperback book has 220 pages and costs $25, it is published by Modern Vaudeville Press, Philadelphia and has an ISBN reference of 978-1-7339712-5-6220. For more information, visit www.jugglingbook.com "
– Steve Chapman, Editor, King Pole – quarterly magazine of the Circus Friends Association of Great Britain
Pre-order your copy here! (anticipated release date 8/31/20)
Reviewer: Emily Fulton, age 13
Rating: AAA+++ I would definitely recommend this book!
Thom Wall's latest book Juggling: What It Is and How to Do It is definitely a must-read for any aspiring juggler. Beginners and seasoned jugglers alike can all benefit from reading this comprehensive guide to the all-too-much-forgotten art of ball juggling.
Here are a few different reasons that I think you will become obsessed with this book from the second you turn the first page:
The Why Factor
Whenever I am learning a new skill, I will often be asked to perform some minor change in form.  I often counter this with a "why".  I know that I will be 10 x more likely to do this change every time if I know what will happen if I don't.  One of the great things about this book is that it explains "why" you should do something, which is an area I find many similar books often fall short.
The Appendices
Another great feature of this book is the appendices.  They include some great information and really help you dive deeper into certain subjects.  For instance, if you want to learn about all different kinds of juggling balls, just head on over to Appendix C.  This lets you choose when you want to learn more about a specific topic which leads to you thoroughly enjoying your juggling practice.
Circademics
Circademics (circus-academics), a term coined by Jackie Leigh Davis, is the study of circus in development and science.  Thom frequently features studies about juggling in this book, which is great!  He even gives you free access to the short book he wrote all about circademics, called What Scientists Have to Say About Juggling.  This way if you're really into it you can continue to study the research he briefly touches on in this book.
A Few Extra Things That Make This Book So Special:
Jay Gilligan & Fritz Grobe
Two amazing jugglers and writers, Jay Gilligan & Fritz Grobe, each write a chapter in this book.  Fritz Grobe gives you a few of his inside tips on How to Juggle In Front of an Audience.  While Jay Gilligan teaches you 10 Ways to Make A Trick.  These writers add an extra element that you just can't find anywhere else!
An In-depth Siteswap Explanation
Siteswap is often one of those things you'll never really learn as a beginner or hobby juggler.  You might have been taught a few different siteswap patterns and maybe even what the patterns were called.  But chances are you didn't and won't learn how these patterns were developed, many using a numerical system that is the foundation of many intricate patterns.  Siteswap is almost definitely not what you heard from your friend who's brother knew someone who watched a YouTube video from some guy who didn't really know what he was talking about.  This book explains siteswap in great detail, teaching you the science of siteswap.
Great Diagrams and Photos
One of my favorite parts of the book is the great charts and photos that really enhance your juggling experience.  There are long-exposure photos, taken with LED juggling balls, that actually illustrate how your juggling balls will travel.  If you're a mathy person or like numbers, this book has you covered, with number charts that will tell you how and when to throw and catch a certain ball.  But if not, don't worry!  Thom also included some very simple, easy to understand, diagrams just for you!
The Icing On Top……It's Not Boring At All!
By now, maybe you're thinking, "with all this information, isn't this just a big, boring textbook?"  Well think again!  Thom writes this book like he's in the room with you, teaching you the ins and outs of juggling.  He'll give you inside tips on technique and presentation, so it honestly feels like you're having one of his top-notch private lessons.  It's really great to have a super-amazing juggling Cirque Du Soleil performer write a book in such a personable, down-to-earth way.
In short, I truly wish I had this book when I was first learning to juggle.  Excellent information is presented in an eye catching, easy going fashion to support you on your journey to ball-juggling mastery.
Reviewer: Rachel Ostrow, age 16
Juggling: What It Is and How to Do It is an absolutely spectacular book written by expert jugglers that compiles everything there is to know about juggling technique, history, progressions, performing, and more. It especially focuses on being creative and building a good juggling foundation that can be added on to. I mean three ball tricks, four ball tricks, 5 ball tricks, balancing – this book teaches you the easiest way to do them, what you could be doing wrong, and what you never knew you were doing wrong. It has perfectly selected diagrams for the visual learners, and even mathematics to understand conceptually. I also found it fascinating how many of the tips could also be applied to training and performing for people who are professional circus artists or those who have no prior experience whatsoever. Wall eloquently explains the steps for creating an act, including how to avoid stealing sequences, which can and should be used by every performer. It was so evident that everyone writing, especially Wall, is so passionate and carry such expertise in all aspects of juggling, such that it was a complete pleasure to read.
But the true test, did this book really help with juggling? It totally did! This book is honestly such an amazing source of learning and inspiration that could get anyone excited about juggling, and the tips are so extensive and useful, anyone with a bit of motivation (which this book certainly gives you) can up their juggling skills exponentially!
Pre-order your copy here! (anticipated release date 8/31/20)
Advance praise for Juggling: What It Is and How to Do It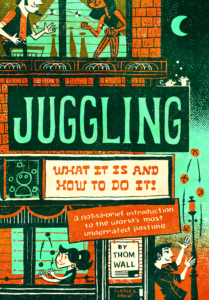 Publisher: Modern Vaudeville Press
Author: Thom Wall
Publication Date: 8/31/2020 (anticipated)
ISBN: 978-1-7339712-5-6
Other Contributors: Thom Wall, Benjamin Domask-Ruh, Jay Gilligan, Fritz Grobe, Matt Hall (foreword)
List Price: $25
Book Format: 6×9" paperback, appx 225 pages